Travelling is an experience most people if not all find to be exciting. However, sometimes while making plans for such enthralling trips one may find themselves being constrained fiscally. Nevertheless, holiday making needs not to be expensive.
One does not have to be loaded with cash to have the time of their lives. One can still have commensurate fun even without spending big particularly on accommodation. When visiting Bahrain one will undoubtedly enjoy staying in their cheaper tourist hotel as they would have in an exquisite high rated hotel. This can be attributed not only to their service but also to the hospitable nature of the people.
The following are some of the cheap but superb hotels to stay in Bahrain:
Juffair Grand Hotel
Found in Manama, approximately 15 minutes from the Bahrain International Airport. It has a fitness center and a swimming pool where one can spend afternoons. Rooms are spacious and elegant with 24 hour service. They have a nightclub while their chic bar serves an assortment of drinks. For traditional Bahraini cuisine, they have a restaurant with other food courts found nearby. The hotel is also strategically placed near perennial tourist attractions in the city thus making travelling easier. It costs about $100.
Golden Tulip Hotel
Also found in Manama. It has tennis courts, a fitness centers, a Jacuzzi and a spa. From about $80 one can get to spend a night in their well furnished rooms and trendy minibars. Each minibar is equipped effectively with tea and coffee making facilities, Wi-Fi and ample sitting area. At Al Wasmeyah one can get all kinds of dishes as they serve international culinary. Nearby one can access the Bahrain World Trade Centre and Bahrain National Museum.
Atlas Hotel
Located in Gudaibiya. Here the service offered is awesome plus there is ample parking area, a coffee bar and family rooms. In the morning one can enjoy the full English breakfast served here. The rooms are also stylish with all facilities one may need.  A stay here costs from $80 onwards.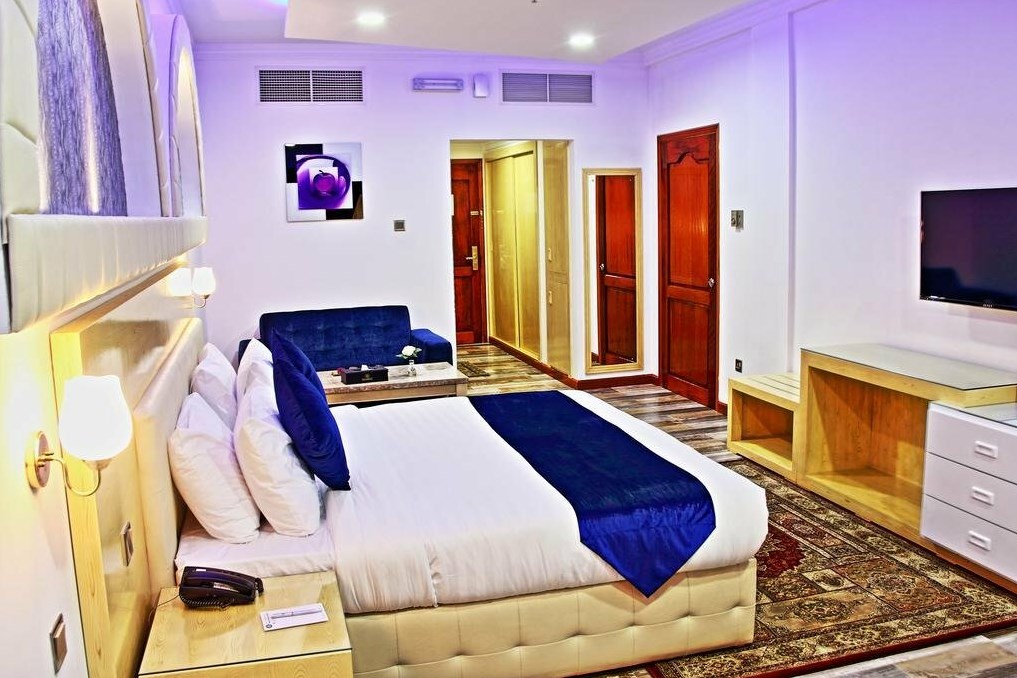 Majestic Arjaan
Everything about this hotel is fabulous from the architectural design. A night here costs as from $135 depending on the suite one chooses. It is found in Segaya in a location where one can easily access attraction sites and eateries serving traditional and international dishes. Also equipped with necessary facilities and minibars the afternoons and evenings are set to be thrilling as well as relaxing. The staff and customer care is also friendly and one can learn more about Bahraini's attractions from them.
Riviera Palace
The Riviera Palace is another magnificent hotel found in Bahrain Island. Spending a night here costs about $200 or more and also depending on the rooms one chooses. The suites here are trendy equipped with whatever one may need from unlimited internet to sufficient toiletries. • The Bahraini cuisine found here or in nearby food joints will make the time spent here worthwhile. The customer service here is world class, with multilingual staff from whom one can learn about nearby attractions or any bookings to be made.
The aforementioned list contains some cheaper but equally amazing hotels where one can stay though it is not exhaustive. There are many more with amazing service. While travelling to Bahrain one needs a Bahrain Visa which can be attained by doing an online application. This can application for the visa is done on their official site.
Ruby Andrew's author bio
Ruby Andrew, an avid reader and blogger and author by profession lives in Bristol, UK. Since her early years she's had a passion for writing. As a writer, she could pen down on any topic that come across. Her areas of interest are Travelling, Fashion, and Lifestyle. She works as a guest blogger for different sites and currently writes on behalf of Bahrain Visa and you can contact her through G+ profile.